Two suspected armed robbers met their abrupt end in the morning of Thursday, 23, 2022; as they were burnt to death by an angry mob around the Ijokodo axis of Ibadan, Oyo State.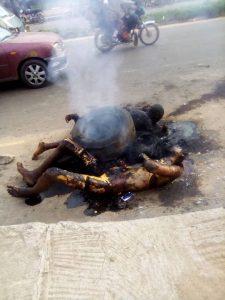 The suspected bike thieves whose identity remains unknown were said to have been apprehended around the Ologuneru area of Ibadan. But were eventually burnt to death around WAEC junction, Ijokodo. 
Additionally, an eyewitness alleges that upon apprehension, bike riders beat and then eventually set the suspects ablaze.  
Another eyewitness claims the suspects are three, and that the third person managed to escape the angry mob. 
This action however follows a series of similar events in the area. The rise in the rate of thefts and robberies along the Sango-Eleyele axis adds to the general insecurity in the nation. As a result, youths in the area are meting out Jungle justice to any suspect they apprehend. 
It is also worth noting that this event is not the first to happen this year along the same route. As two suspects were also burnt around Bembo, in Sango, Ibadan earlier this year.