Following the FBI's raid on Former President Donald Trump's Mar-a-Lago residence, the phrase, "Civil War" has begun trending on Twitter.
While some describe the raid as a probable cause of another Civil War in the United State, others simply waive off the notion. According to the trend, Americans are accusing Trump supporters of calling for a Civil War, over the Fed's raid. 
FBI raids Trump's Mar-a-Lago
The former President on Monday evening announced the invasion of his Florida residence by the Federal Bureau of Investigation (FBI). 
Announcing through his social media website, Truth Social; the former President described the raid as a "prosecutorial misconduct and the weaponization of the justice system". Trump also describes the invasion as the Democrats' attempt to hurt his potential Presidential bid for the 2024 elections.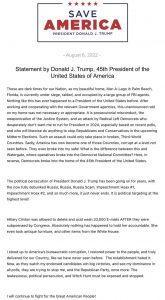 However, reports claim the Department of Justice investigation of the former President is tied to his probable connection to last year's attack on the U.S. Capitol. There are also claims of investigations regarding his threats to topple President Joe Biden's victory in the 2020 election. 
Additionally, the former President is under investigation by a federal grand jury over his handling of classified documents; with claims of carrying 15 boxes worth of materials to the Florida resort. According to the New York Times, two important sources attribute the raid to the said classified documents. 
Responding to the raid, the White House states that it has no information about the event. Adding that all inquiries should be directed to the Justice Department for more information. 
Reporting the raid, Florida Politics claims the FBI enforced a search warrant and vacated the property, before Trump's
statement. It is however worth noting that Donald Trump selected the incumbent FBI Director, Christopher Wray in 2017. 
However, the raid on the former President's home comes only about 100 days before the Midterm elections. Besides, a US Senator, Lindsey Graham has described it as problematic; claiming that this might somehow affect the former president's chances, in his bid to likely contest again in 2024.