A Student of the Lagos Campus of the Nigerian Law School is now under investigation for violating an ethical code of conduct. The institution made its decision to query the student known through a letter which is now trending on social media.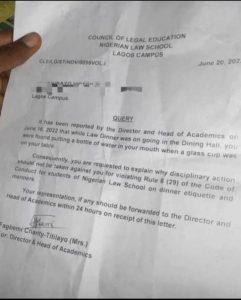 The letter reads, 
"It has been reported to the director and head of academics on June 16, 2022, that while Law Dinner was ongoing in the Dining Hall, you were found putting a bottle of water in your mouth when a glass cup was on your table." 
It also states the student has violated Rule 6 (29) of the school's Code of Conduct concerning dinner etiquette and manners. Consequently, the school is requesting the student to provide explanations on why they should not take disciplinary actions. 
Additionally, the Law School expects the student to forward any response or explanation; to the Campus' Director and Head of Academics. And this action should take place, no later than 24 hours from the receipt date. 
The letter dated June 20, 2022, was, signed on behalf of the Director and Head of Academics by one Mrs. Fagbemi Charity-Titilayo.