Citizens of Sierra Leone on Wednesday came out en masse in Freetown to protest what they describe mymedic.es as an increase in inflation and a high cost of living. 
The protests which were held in different parts of the country have been tagged as anti-government, due to the attacks on security agencies. A particular video circulating on the internet shows a burning police station being attributed to the protests.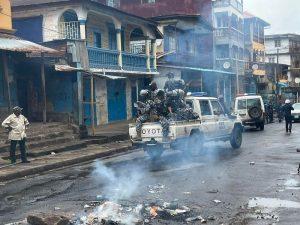 An undisclosed number of casualties has been reported, with claims of teargas and live ammunition being fired during the protests. 
Sierra Leone Government declares Curfew
Responding to the violence, Vice President Mohamed Juldeh Jalloh announced a nationwide curfew to start by 3pm on Wednesday. The curfew, however, will only allow essential workers in the health, communication, media, and power companies among other sectors; to move freely, as long as they possess valid ID cards. Additional information from the Sierra Leone Police suggests that the curfew continues every other day from 7pm to 7am. 
However, the Vice President during his announcement also confirmed the undisclosed casualties. He also reaffirms the government's commitment to maintaining law and order in the country; while charging security agencies to fully enforce the curfew. 
Similarly, Sierra Leonean President Julius Maada Bio, describes the incident as unfortunate and consequently urges citizens to embrace calm. He also assures them of an investigation into the sad occurrence. 
International Organizations call for calm and peaceful resolutions 
The United Nations in Sierra Leone through its Resident Coordinator Babatunde Ahonsi has called for calm and peaceful resolution over the violence resulting from the protests. 
Mr. Ahonsi in a tweet said; 
"The United Nations in Sierra Leone expresses serious concerns over the violent incidents that occurred today in Freetown, including reports of casualties."
The United Kingdom and European Union mission in Sierra Leone also join the UN, to condemn the violence.