The Presidential candidate of the People's Democratic Party (PDP), Alhaji Atiku Abubakar has on Thursday debunked the rumor about him being a shareholder of Mikano International Limited. 
The former Vice President disclosed this while addressing the recent crisis in the Nigerian power sector. According to him; 
"My aspiration to be President is to protect the interest of the average Nigerian in all circumstances, and on this, I stand to say that I have no interest either directly or indirectly in any generator company, as has been publicly revealed. – AA"
However, the announcement comes following the Presidential candidate's regular debunking of rumors about owning or being a shareholder in any power-generating company.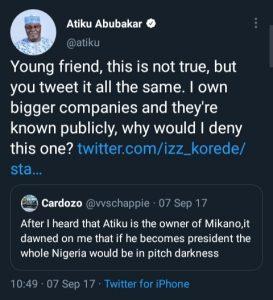 Similarly, a trending document shows Mikano International Limited dissociating itself from claims of being owned by the former Vice President.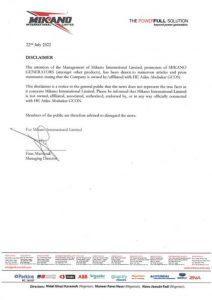 Atiku gives blueprint for solving Nigeria's Power problem 
While debunking the rumor, Alhaji Atiku Abubakar also revealed his plans to solve Nigeria's power problem. 
According to him, he would remove power from the exclusive list, thus empowering states to generate Power by themselves. He adds that he would also improve investments in the Nigerian electricity value chain.
"In this regard, my approach is to first remove the entire electricity value chain from the exclusive list and give states the power to generate, transmit and distribute electricity for themselves. 

An industrial dispute with the FG in Abuja should not affect an industry in Lagos or a factory in Aba or in Kano or even an average Nigerian who just wants to get home, watch the news, and sleep under a ceiling fan."
Electricity Workers declare nationwide strike
Recall that the National Union of Electricity Employees (NUEE) had on Wednesday embarked on a strike leading to a nationwide blackout. 
The union claims that the Federal Government's inability to uphold their December 2019 agreement, is the reason for the strike. The agreement however includes the payment of entitlement to former employees of the defunct Power Holding Company of Nigeria (PHCN); among others. 
The now suspended strike action pending the Federal Government's approval of their demands, within the next two weeks.